The Patient is In
Making Telehealth Profitable
Many healthcare facilities turned to telehealth during the pandemic to keep pace with patient demand and routine patient care. A recent study by McKinsey & Company found that telemedicine services have skyrocketed from 11% of U.S. consumers using telehealth in 2019 to 46% of consumers now using telehealth to replace in-person doctor visits. Telehealth will no longer be a luxury, but rather a necessity as demand continues after the pandemic. With the rise in popularity, health system leaders need to focus on how to maintain profitability with telehealth services. Let's look at a few areas of focus that will help make telehealth a valuable offering.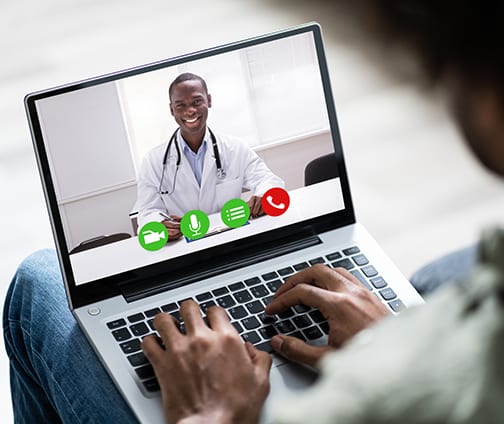 Efficient Care Delivery
Telehealth is less time-consuming for both the patient and provider, allowing for increased workflow and quicker care delivery. The increase in patient throughput creates more billing opportunities. For example, primary care physicians typically see about 12 patients in an average 4-hour shift. Telehealth allows physicians to see 16 patients in that same time frame. Currently, a provider receives the same reimbursement rate for a telehealth visit as they do for an in-person visit increasing overall profitability.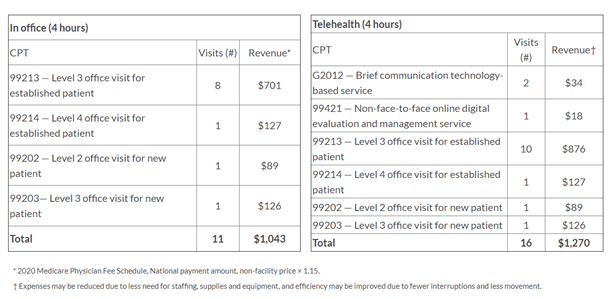 Patient Satisfaction
There has been a dramatic shift in the attitude towards virtual platforms for doctor visits in the wake of COVID-19. A survey of 2,042 people by Harmony Healthcare IT, found that 67% of the respondents had used telehealth during the pandemic, up 21% from before the pandemic, with participants reporting an average of 2.9 telehealth visits since quarantine and social distancing measures were put in place. The same survey found that 72% of respondents were highly satisfied with their virtual visit and would schedule a virtual visit again. It's important to develop clear telehealth guidelines to ensure every patient receives proper care and attention. Beyond the sheer convenience of telehealth, virtual visits increase flexibility, improve patient safety and reduce wait times, leading to improved patient satisfaction and lowered patient leakage.
Accessibility
Everyone needs access to healthcare, yet obstacles remain for specific patients and populations when it comes to healthcare services. Telehealth is a key strategy in expanding access to care at a time when patients are steering away from in-person doctor visits. A survey by Merritt Hawkins found that 76% of patients care more about access to healthcare than the need for human interactions with their healthcare providers. Telehealth is instrumental in improving care in underserved populations and clears a path for hospitals and health systems to reach new patients in hard-to-reach markets. Virtual visits also provide an efficient option for time-sensitive patients, allowing them to choose your health system rather than their nearest option creating new patient opportunities and increased profitability.
Coding & Reimbursement
Reimbursements for telehealth continue to evolve. Currently, the Centers for Medicare & Medicaid Services (CMS), along with many commercial payers, is matching payment rates for telehealth services to that of in-person care; however, it is uncertain if this will continue once contact restrictions are lifted.
With that said, it's important for healthcare organizations to carefully review telehealth coding to make sure they are not leaving revenue on the table. From typical office visits to virtual check-ins, the level of medical decision-making or time spent can be used to determine the billing level for telehealth services. Policies vary from payer to payer, be sure healthcare leaders understand the right questions to ask when working with each company to appropriately bill and optimize reimbursement.
It's clear that the growing use and acceptance for telehealth is here to stay. It should be an integral part of a health system's care offerings, allowing them to deliver more cost-effective, proactive and patient-centered care. With careful planning and proper implementation, telehealth can also be good for profitability.
Radiologists have the highest use of telehealth for patient interactions.
Telehealth is one of the top trends in radiology – click here to view other top imaging trends to watch for in 2021.