Shared Imaging tailors solutions to meet your needs. It starts with selecting the best technology to meet your clinical, operational and financial requirements. We don't just sell you what we have, we get you what you need – from any manufacturer. We provide this technology where you need it providing parked full-time, routed part-time and interim solutions so that you can bring care to the patient.
Siemens Biograph Vision PET/CT Scanner
Strengthen your competitive edge with the Biograph Vision. The completely new and unique Optiso Ultra Dynamic Range (UDR) detector uses multiple technologies to provide optimal performance in a wide range of count rates. The Biograph Vision delivers improved accuracy and maximizes efficiency and reproducibility to help you better understand disease progression.
GE Signa Voyager MR System
The GE Signa Voyager AIR TM Edition is equipped with AIR TM Coils – the new standard in coil innovation. This light and form-fitting design allows for greater versatility and patient comfort. Level up your image quality with AIR™ Recon DL – designed to make exceptional image quality and faster scan times the new standard for MR imaging.
Siemens MAGNETOM Aera 1.5T MRI
Approved for mobile configuration, the MAGNETOM Aera 1.5T MRI scanner offers a full range of applications and a roomy open bore design allowing you to reach new levels of productivity and patient care. Through the combination of Tim 4G integrated coil technology and Dot MRI software, the MAGNETOM Aera is one of the most advanced 1.5T MRI systems available on the market today.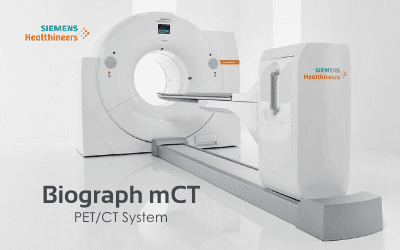 Siemens Biograph mCT PET/CT System
The value of PET/CT is in the details. The Biograph mCT brings reproducible quantification to molecular imaging. Designed to be a scalable PET/CT platform, it provides the clinical flexibility you need to accommodate all patients and procedures for PET and CT. The Biograph mCT delivers excellent lesion detectability, spatial resolution and quantification accuracy allowing you to bring a higher standard of care to more patients.