Product Showcase:
MAGNETOM Viato.Mobile
Clinical excellence on the move
MAGNETOM Viato.Mobile offers you the flexibility to deliver high-quality care where it is needed most. Allowing for both mobility and performance, the MRI system puts cutting-edge AI at your fingertips to accelerate and enhance your clinical performance. MAGNETOM Viato.Mobile allows for faster scans and encompasses a system that guides you through every step of the workflow while also putting your patients at ease.
Features and Benefits
5 Tesla field strength and 70 cm Open Bore design
Same performance as stationary system without typical infrastructure requirements
Tailored to your demands with scalable, high-performance coil portfolio
Deep Resolve image reconstruction technology provides up to 88% acceleration
Master demanding clinical challenges with Compressed Sensing
BioMatrix Technology puts the patient at ease whist simplifying the workflow
Intelligent guidance with myExam Companion enables reliable imaging results
Use predictive intelligence from Guardian Program to solve technical issues before downtime occurs
Energy-saving technologies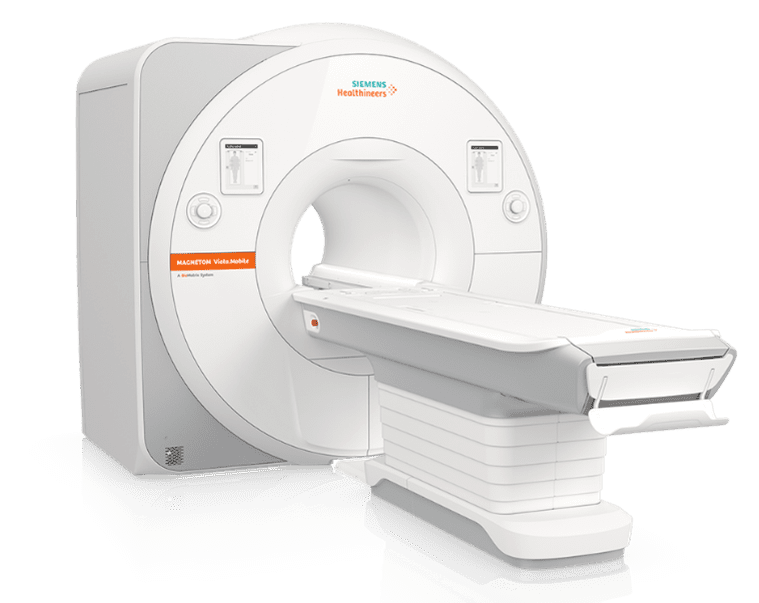 Shared Imaging offers flexible solutions to ensure you are equipped with the best MR system to enhance your patient's experience. We can customize software-level, coil package and features to meet your clinical needs. Shared Imaging can provide you with a new, used or refurbished system from most OEMs in a mobile, modular or in-house configuration.
Our goal is to provide you the right technology in the right place at the right cost.
.