Solutions Overview: Interim Imaging Customized
Natural disasters can leave a wide wake of destruction in their path requiring patient relocation and a disruption in care. This type of interruption of services can last several weeks, negatively impacting a facilities' level of patient care.
CHALLENGE
Living in an area prone to hurricanes, one southern Florida medical center expressed the importance of having a strong plan in place for what needs to happen in advance of a big storm. Ensuring the safety and care of their patients before, during and after a storm was of the utmost importance.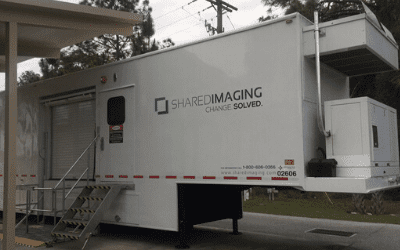 SOLUTION
Through extensive strategic analysis, Shared Imaging developed an imaging disaster plan that allowed them to achieve an optimal level of service not only leading up to a storm but in the months to follow as well. When a recent hurricane threatened the entire state of Florida, our operations team started monitoring the weather 4-5 days in advance, giving enough time to move equipment to a higher floor if necessary and allowing patients and staff enough time to evacuate if ordered to do so. In the aftermath of the storm, all equipment placed by Shared Imaging was inspected to make sure it was working properly before patient scheduling resumed. To accommodate the post storm influx of patients, we provided 2 interim mobile coaches allowing the facility to continue to serve their community in a time of need.
Interim mobile coaches are housed with advanced imaging technology. Optional customized features are available to enhance the patient experience. In addition, we provide hassle-free 24×7 service and preventative maintenance for the mobile coach and system for the entire length of the interim solution.