Despite industry backlash, the Centers for Medicare & Medicaid Services (CMS) finalized the site-neutral payment provision, leveling the playing field between what physician offices and hospital outpatient departments (HOPDs) are paid for certain clinical visits. Starting this year, HOPDs will see a 60% decrease in reimbursement to match rates set by the Physician Fee Schedule (PFS) for clinic visits.
Why is Site-neutral Payment a Key Issue for Imaging?
A significant proportion of imaging services are performed in an outpatient setting. Outpatient reimbursement changes will have a substantial impact on imaging's current revenue and subsequently overall hospital margins because radiology services often offset the cost of lower revenue services.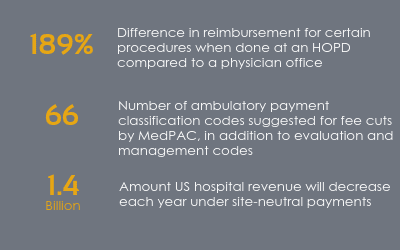 What Sites are Impacted?
Sites affected by the final site-neutral payment provision are:

Hospital-owned practices designated as off-campus, provider-based sites

Acquired or opened after November 1, 2015

Located farther than 250 yards from a hospital's main campus
In addition, off-campus HOPDs that have a change in address, including facility relocation or remodeling, will be subject to site-neutral payments.
Facilities that are permitted to continue billing on the Hospital Outpatient Prospective Payment System (HOPPS) include:
Off-campus HOPDs that expand their services without a change in address
Emergency departments
What Services are Impacted?
CMS will now reimburse at the site-neutral rate for code G0463, hospital outpatient clinic visits, across all HOPDs regardless of if they meet the facility criteria. CMS will phase this payment cut over a two-year period.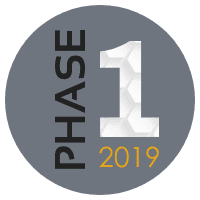 Phase 1 will roll out in 2019. This code will receive a 30% cut in payments, which will reduce the average national payment rate for this procedure from $116 to $81 based on 2018 rates.
Phase 2 will take effect in 2020. All payment for code G0463 will be paid at the site-neutral level, 40% of the hospital rate. Based on 2018 rates, the national average reimbursement for this code would be $46.
This will not be the last we hear about site-neutral payments. In the coming years, we can expect CMS to continue to modify and expand the policy. Expanded services, high volume procedures and services at freestanding and off-campus EDs will likely be a focus for site-neutral payment expansion in the future. Private payers have also taken notice of the payment discrepancies between HOPDs and freestanding sites as we continue to see advanced imaging services being denied at hospital-based facilities.