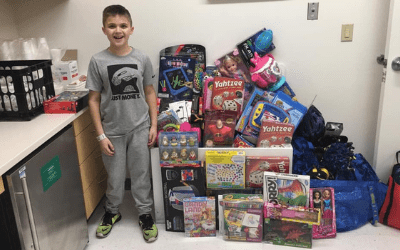 The Rush University Children's Hospital toy drive was a huge success! Lucas, a patient at the Rush Pediatric Cancer Unit, kindly offered to deliver the toys we donated during his next visit.  He kept his word and delivered our toys and gift cards in January. Lucas' mother Laura said he had a huge smile on his face while he delivered the toys and said he felt like Santa Claus.
"The box you dropped off was filled to the brim with such amazing stuff. You guys made some kids so happy today. There is a 4-year-old in there now rifling through everything and saying, "oooohhh, I love this" to everything he picks up."
This pile of toys is only half of the toys our organization donated. The cash that was donated as part of our toy drive was used to purchase gift cards that were given to patients that are teenagers. After purchasing the gift cards, there was ~ $15 and some change leftover, so we gave the money to Lucas as payment for delivering the toys on our behalf. He was ecstatic.
The SHARED.CARES. Philanthropy Committee is delighted to hear such great feedback regarding everyone's efforts and proud to work for an organization comprised of such thoughtful, selfless people.  You guys ROCK!