Recent HCAHPS Scores:
Your Reimbursement and Your Reputation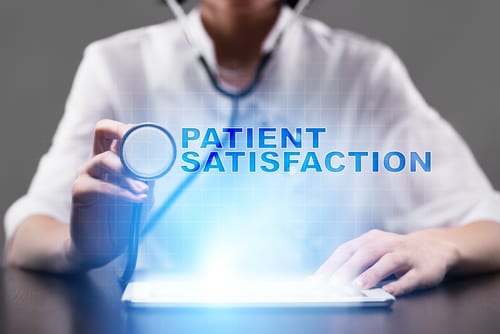 Your patients have spoken! With newly released HCAHPS results in as of April 26th, now is a perfect time to review how HCAHPS impacts your reimbursement and your reputation, and then decide how to improve your score.
How Do HCAHPS Scores Impact You?
CMS calculates HCAHPS scores by using the most recent four quarters of patient survey data, which means the scores are dynamic. All HCAHPS results are published directly on Medicare's Hospital Compare website, and hospitals should review their scores every time they are updated to ensure they are continually high and/or improving. HCAHPS impacts your organization in the following two ways:
MEDICARE REIMBURSEMENT. Your HCAHPS scores directly impact your overall Value-Based Purchasing Score, and by extension, your Medicare reimbursement. Value-Based Purchasing is a complex topic in its own right (check our VBP blog here), but basically what you need to know is that the Patient and Caregiver-Centered Experience of Care/Care Coordination component of the Value-Based Purchasing Score is determined by your HCAHPS results. For 2017, this component accounts for 25% of your total score. This is significant because as of 2017, hospitals face a max 2% reduction to their total Medicare inpatient revenue based on their Value-Based Purchasing Score.
REPUTATION. Arguably, the largest impact HCAHPS can have is its effect on a provider's reputation. Because your HCAHPS results are completely available to the public, patients can see your hospital's HCAHPS results as they compare their options for where to receive their healthcare. As the healthcare market continues to trend towards consumerism, this will become increasingly critical to your organization's success in attracting and retaining patients.
Making the Patient Experience a Cultural Cornerstone
Because your HCAHPS score can significantly impact your organization, taking a proactive approach to improving your score is critical. There are a number of key focuses for improving your HCAHPS:
Communication with patients and their families
Collecting and acting on relevant data
Educating patients on their healthcare
Underlying these focuses is the need to make the patient experience a cornerstone of your organization's culture and create a five-star patient experience across the entire continuum of care. (As you well know, a single adverse event can ruin a patient's experience, no matter how incredible the care they received was across the rest of the continuum.)
Creating a Five-Star Diagnostic Imaging Patient Experience

At Shared Imaging, our primary goal is to ensure that your patients receive nothing but excellence in care for their diagnostic imaging needs. We would love the opportunity to share some ideas about how we can help you enhance the imaging component of your care continuum. For more information, check out our unique Functional Service solutions:
Imaging. SOLVED.