LDCT Lung Cancer Screening: Making an Educated Choice
By now you may have heard that annual screenings for lung cancer with low dose computed tomography (LDCT) are a preventive service benefit under the Medicare program. Lung cancer is the leading cause of cancer-related death in the United States. For those who meet the eligible criteria, a low-dose CT scan can reveal lung abnormalities as small as a grain of rice. This is typically much smaller than the size identified by traditional x-rays. Early detection for these patients could mean more treatment options and a higher chance of survival.
Eligibility Requirements
If you are considering offering a LDCT lung screening program, it is important to keep in mind what patients are eligible for this service in order to get an accurate picture of what your clinical demand for this service will be. We've summarized the eligibility requirements below:
Between the ages of 55-77 years old
Must NOT show any signs or symptoms of having lung cancer already
Must have a smoking history of at least 30-pack years, meaning a patient had to have smoked at least one pack (20 cigarettes) every day in a single year for 30 years
Current smokers or have quit smoking within the last 15 years
In addition to meeting all these requirements, patients must have a written order form furnished by a physician or a qualified non-physician practitioner during a lung cancer screening counseling and shared decision making visit.
Is It a Good Fit?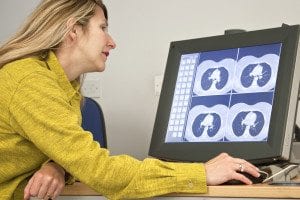 Now that you have an understanding of what types of patients are eligible for LDCT lung screening, you can evaluate the demographics of your service area to estimate the level of clinical demand for this procedure. Looking at variables such as age, percentage of smokers, and average cigarette consumption by smokers can help determine if offering an LDCT lung cancer screening program is right for your facility. If you do not have access to this data, US Census Fact Finder is a great tool for population demographics and the CDC is a great source for tobacco utilization rates. Both are free and can help start your analysis.
For additional resources, visit the American College of Radiology or contact one of our CT specialists to assess your current equipment and capabilities.