Are You Prepared for the Next Big Storm?
September is historically hurricane season's climatological peak of activity, and 2017 proved to be no different.  Hurricanes Harvey, Irma, and Maria mark the first season on record to feature three Atlantic hurricanes making landfall anywhere in the United States at Category 4 intensity or stronger.
There is no way to hurricane proof a home, a business or even a healthcare facility. All the planning in the world could be for naught when 130 mph winds and a 10 foot storm surge are headed your way. Hurricane activity can and has damaged hospital property, required patient relocation and disrupted care with an even bigger impact on outpatient practices as they are more exposed to closures and/or rescheduling. This type of interruption of services can last anywhere from 2-4 weeks impacting a facility's performance and financials negatively.
One southern Florida medical center expressed the importance of having a strong plan in place for what needs to happen in advance of a big storm. "The good thing about hurricanes, if there is a good thing about them, is that we typically have several days advanced warning and have very specific plans at the hospital about what to do for this type of disaster," said Ed Chiarelli, Director of Imaging Services for Hendry Regional Medical Center in Clewiston, FL. For example, as Hurricane Irma threatened the entire state of Florida, Ed worked with Shared Imaging's operations team regarding the need to move the MRI machine if the risk of the storm reached a certain level. Ultimately, the magnet did not sustain any damage due to the hurricane. Ed also stressed the importance of having a recovery plan and follow up for after the storm. Ensuring all equipment is working properly before you begin scheduling is vital to the quality of care your patients receive.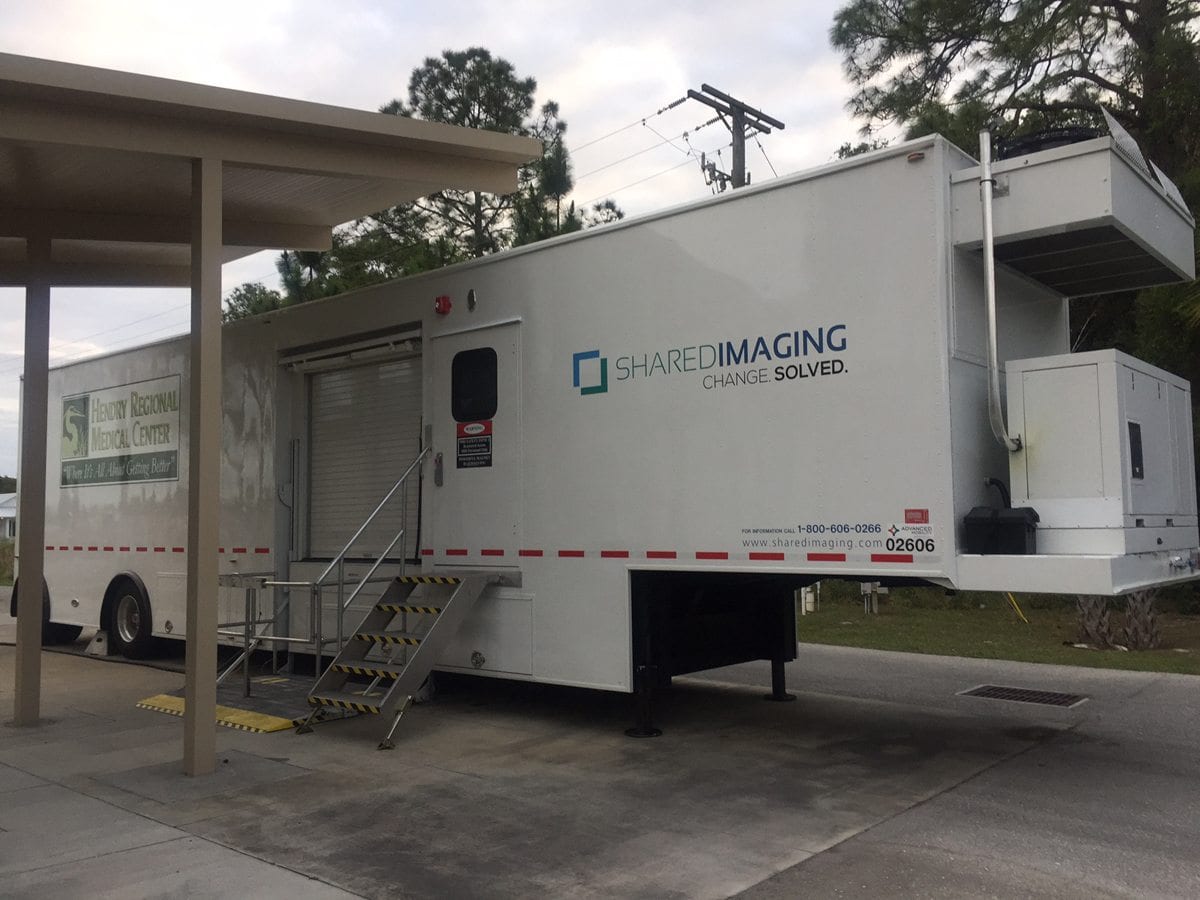 Jose Rodriguez, Southwest Operations Manager for Shared Imaging based in Houston, TX, reinforced the importance of storm watching. "When preparing for a hurricane with our customers, we start monitoring the weather 4-5 days in advance. The decision on moving the units out of the storm's path will be made roughly 72 hours prior to landfall. This gives us enough time to prep and move the units while still giving the staff enough time to evacuate if necessary."
In the preparation stage or aftermath of an emergency, having a provider to help you navigate the storm is vital. Once the storm has passed, interim rentals from Shared Imaging can help reduce backlogged patients rescheduled due to weather occurrences or allow you to continue providing services during a facility rebuild. Shared Imaging offers advanced technology from any manufacturer and flexible deal structures that allow you to achieve an optimal level of service.