Anthem: Lowering Hospital Profits - Be Prepared
As healthcare costs continue to rise, Anthem announced last year that they will no longer pay for MRIs and CT scans performed in hospitals on an outpatient basis. Anthem's new policy is part of a payer movement to reduce healthcare costs by pushing patients to receive care at locations less expensive than hospitals. The buzz surrounding this policy quickly reached fever pitch and has continued to be a hot topic.
How It Affects Hospitals
It's understandable that Anthem's policy has hospitals concerned regarding their bottom line. This policy puts pressure on hospitals to reduce the cost of MRI and CT scans if they want to compete with the freestanding facilities. With payers looking to direct more services to lower-cost settings, hospitals must react to losing some of their main profit sources. Implementing solutions to lessen the effect of Anthem's imaging policy is the key to hospitals dealing with and overcoming the financial challenge in front of them.
How Will YOU Provide Access to Care in Response to Anthem's Imaging Clinical Site of Care Policy?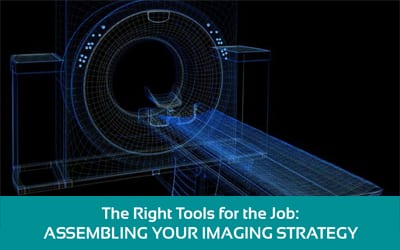 Recapture Revenue
Despite the shrinking number of imaging exams being performed at hospitals, it's unclear just how much the average hospital's income is tied to imaging services.  According to Rich Bajner, a managing director at Navigant, some health systems can collect more than half of their profit from imaging services. Several hospitals and health systems have already taken steps to recapture revenue lost to Anthem's policy and are steering patients to free standing sites whenever possible.
Following these 5 steps will help estimate the effect the Anthem decision will have on YOUR imaging program.
Identify the percentage of your patient base that is insured by Anthem.
Estimate your HOPD CT and MRI volumes. Multiply those estimates by your overall market share.
Calculate CT and MRI volumes.Multiply Anthem patient base (step 1) by HOPD imaging volumes (step 2).
Remove emergency department (ED) volumes for CT (MRI ED volumes are typically too low to make a meaningful difference).Estimating that 30% of CTs take place in the ED, multiply CT volumes (step 3) by 70%.
Estimate percentage of HOPD volumes likely lost based on the medical necessity criteria, location of closest freestanding location, and unique services.Assuming 80-90% of exams will be deemed unnecessary for HOPDs in non-rural areas, multiply MRI volumes (step 3) by the estimated percentage. Multiply CT volumes (step 4) by the same estimated percentage.
If you own a lower-priced freestanding imaging center, you will have an opportunity to shift some of the impacted volumes over to that facility. For those volumes you can shift, you'll be able to win back about 50% of the lost revenue (according to a 2016 Medicare analysis, on average, freestanding facilities are reimbursed at about 45% of the hospital rate). If you do not own a lower cost site, assume 100% of revenue from step 5 above is lost.
With the recent legal action being taken by larger hospitals against Anthem, the future implication of this policy is unknown. However, healthcare providers still need to be mindful that other payers may follow suit and find ways around hospitals' steeper costs for outpatient imaging. It's too early to say, but with the push towards lower-cost settings, hospitals everywhere need to have strategies in place to help prepare them for the financial challenges ahead. No matter what happens the ultimate goal is to reduce costs and generate revenue.